Looking to venture where few others have gone before on the ultimate vacation in Patagonia?
Download our comprehensive guide and learn how to visit mythical Cape Horn.
Few know the gripping history of Cape Horn - and even fewer ever visit. If you're looking for a truly unique vacation, download our informative and practical new ebook, Sailing to the End of the Earth: How to Visit Cape Horn to learn: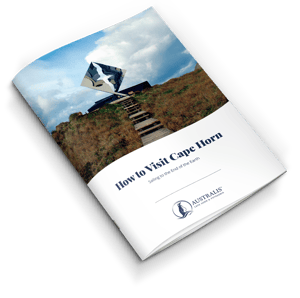 Who

discovered Cape Horn

on January 29, 1616.

How Darwin avoided almost certain death in the waters surrounding Cape Horn.

What

attractions are found on the island, including information about the poignant Cape Horn Monument.
Which

itineraries are available

for sailing to Cape Horn.

What to

bring on a cruise

and how to prepare for the region's turbulent weather conditions.
Get all the information you need to voyage to the End of the Earth by filling in this form.